Some photographic projects take a while to complete. My tiger one is a case in point, I doubt if it ever will be complete to be honest (which is part of the fun). I'm shooting it for myself too, not under pressure from any magazine deadlines, selling stories along the way where I can. Along the way there are milestones, the first was my book Tigers a Celebration of Life and the next will be my joint book with Aditya Singh called Generation Tiger. Whilst photographing tigers is always awesome, there are times when you really achieve major images that you have always dreamt of. On my most recent trip, with some very cool clients nailing the images too, I managed to film a tiger kill sequence from start to finish. In the open, in the sun, in the wild, and all in focus. Of course there are many great kill shots from Indian photographers and I am no way saying mine are away better, I am just talking about my luck after over 220 safaris since 2008. Finally it all came together and since it's now been used in the press worldwide here's an abridged story (FotoBuzz members saw the complete sequence and story two weeks ago).
The day started quietly, we were off chasing the cubs but they were being elusive. We had seen Noor sitting in a waterhole but since we'd photographed her a bunch of times in the same spot we decided to concentrate on the cubs. After a couple of hours of tracking, waiting and generally getting hot I told my driver, the Boss, that we should go and check Noor as she might be walking. No other jeeps followed us as everyone was fixated on the cubs, I have no idea what made me move at that moment but I did. We soon found Noor walking along the track, once she disappeared into the forest we went ahead and waited. Sure enough she gave us some nice walking shots head on before heading off along a track. Sure enough we knew where she was going, I know every inch of that zone and all the angles, so we drove off ahead some way and waited for her to appear in a rocky valley. Sure enough she did, came over towards us and sat down. Since she was headed for an area of dappled shade I told everyone to up their ISO settings just in case, that proved to be a great decision! She started to stare intently off to one side of us, her feet were pulled underneath her and I knew she had seen something. Just as I was thinking of looking at what it was I heard the sound of rocks tumbling and she was off, bouncing from rock to rock....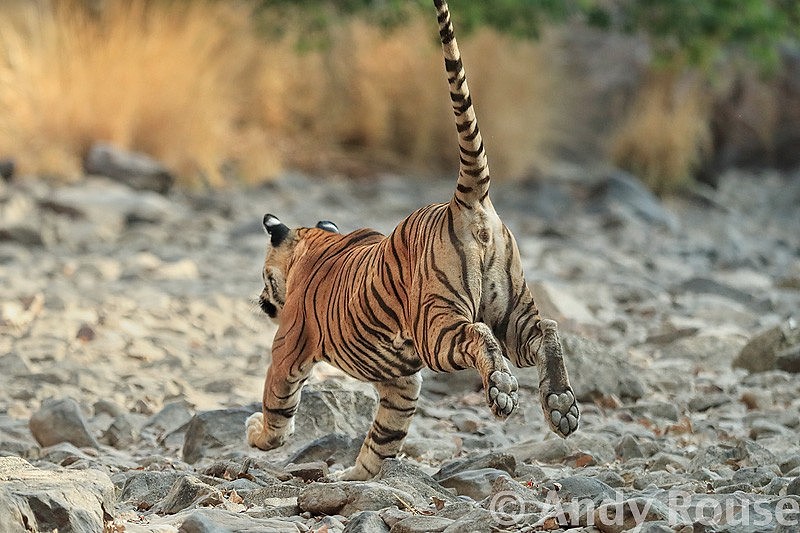 She literally went from rock to rock gaining speed, I had no idea what she was after until it appeared with her in the viewfinder.....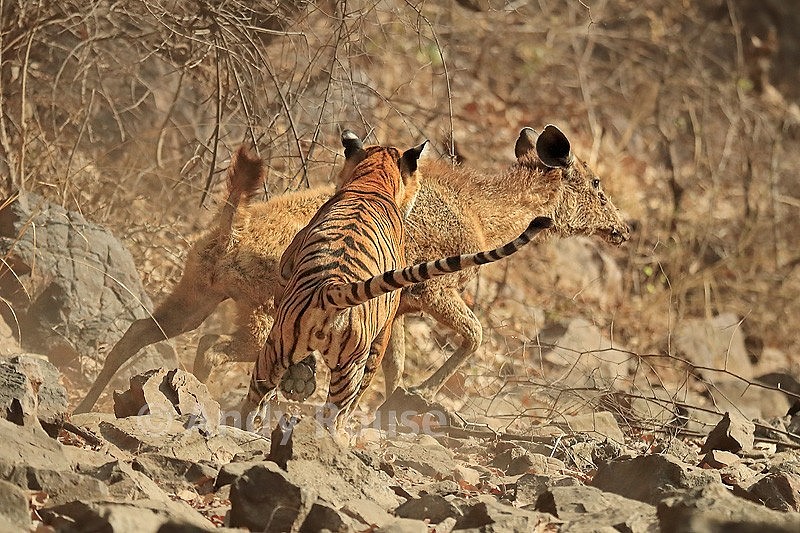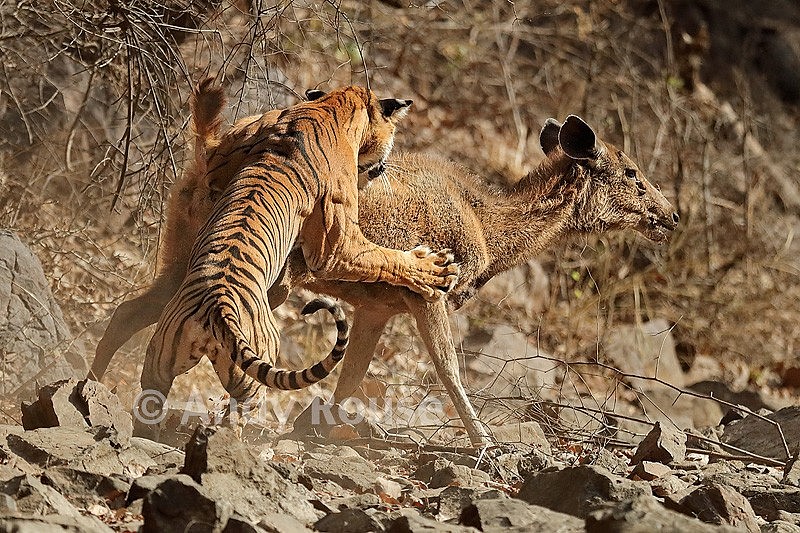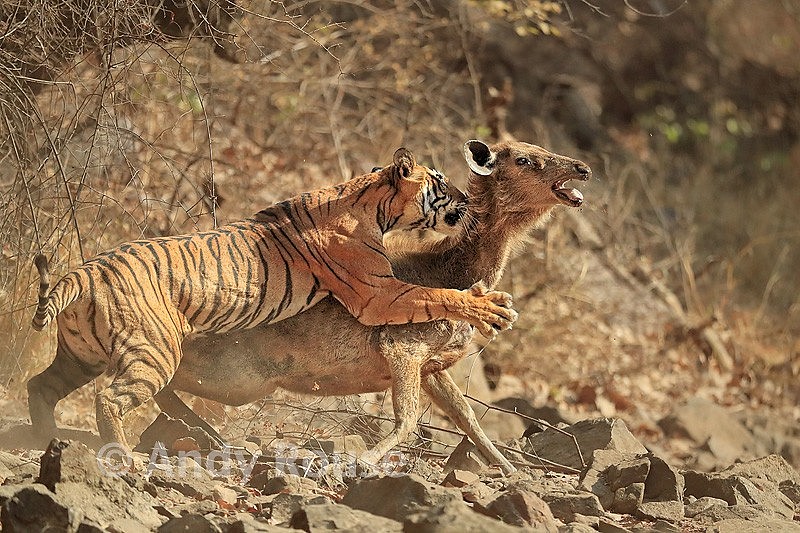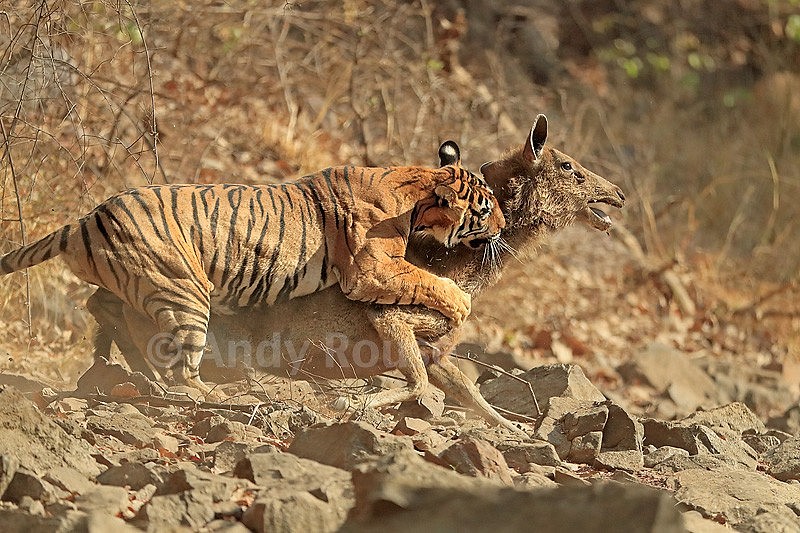 There are lots more in the sequence but in fairness to FotoBuzz members I will leave it at that, you get the idea. She hit the Sambar hard (it was struggling on the rocks) and used her bodyweight to pull it down. She is such an experienced hunter that the Sambar stood no chance. She pulled it down to the ground, after she had a good grip and it was clear that the Sambar was gone, I moved the jeep in front for a more head on shot....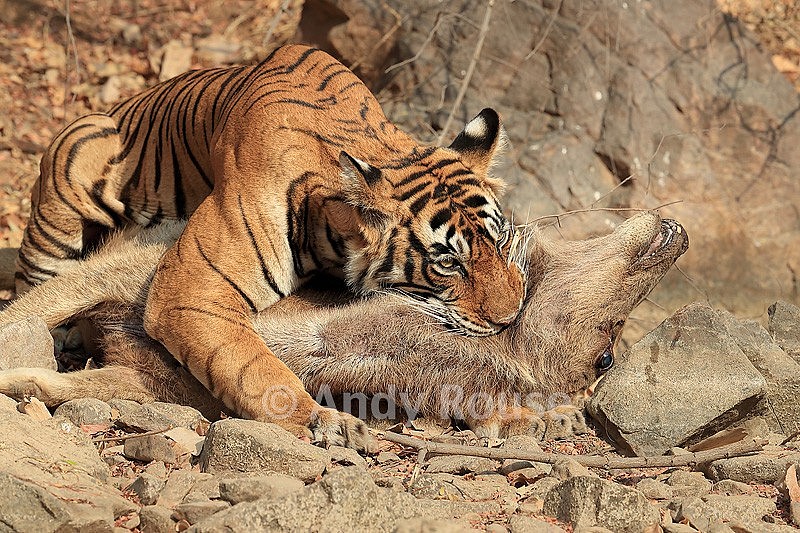 Look at those muscles! After 5 minutes or so she started to drag the Sambar into shade, as it was getting really rather hot!!!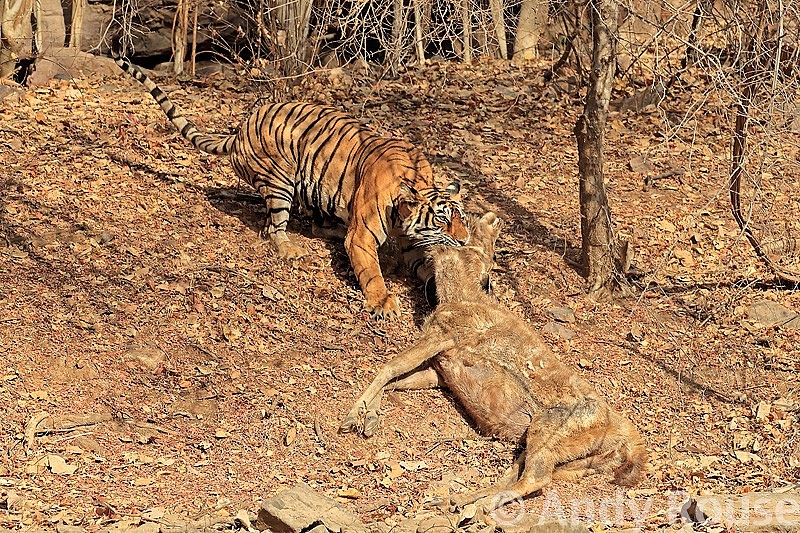 Then it was all over except the crunching so we took a few more images before leaving and giving our position to Dicky's jeep that had just arrived.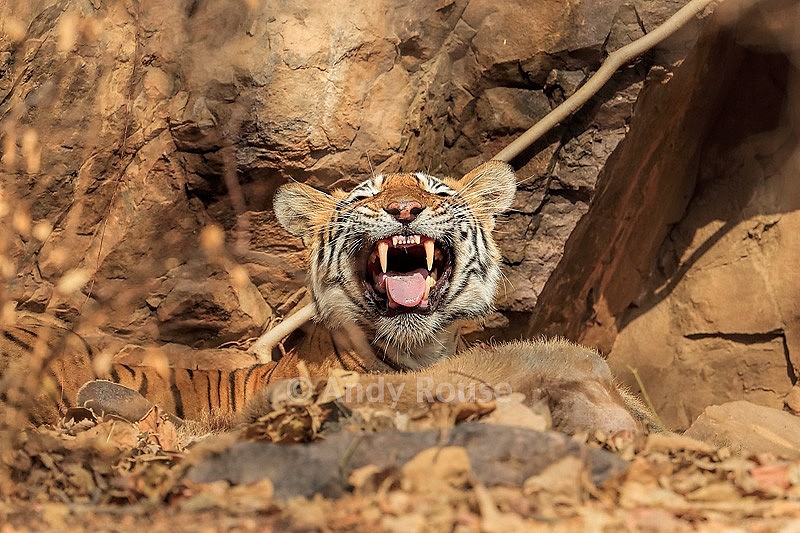 I've seen enough dead animals being eaten in my lifetime to know that the picture taking opportunities are not for me! We had been incredibly lucky and we knew it, so we headed off to sit, relax and chat about it. Everyone was on a high in the vehicle as they had all managed to get the kill sequence from start to finish. It was a good job I got everyone to raise the ISO, I shoved mine right upto 3200 as with the 1DX2 I can do that without worry. Of course these sequences can be easily messed up too, which is where the discipline and experience counts for everything. I shot the whole sequence with the 1DX2, 200-400mm lens and at ISO 3200. I adjusted the AF point as she was running but using the back joystick so that I could vary the focus point from the run to the kill, as it needed to show a different story.
So there you go, the short abridged story of an amazing few minutes. I have seen many animals hunt but seeing a tiger in full flow, focussed and all raw power, is the really the highlight of all of them. It feels good to add this to my collection too, and for the book it's an essential element as Noor is a major part of the story, so Dicky and I were very very happy.
Now I have mentioned a few times about my awesome clients and I want to share some images of theirs with you. They have not processed many yet as they have real lives and proper jobs (unlike me) but here's a few that I have managed to pry away from them....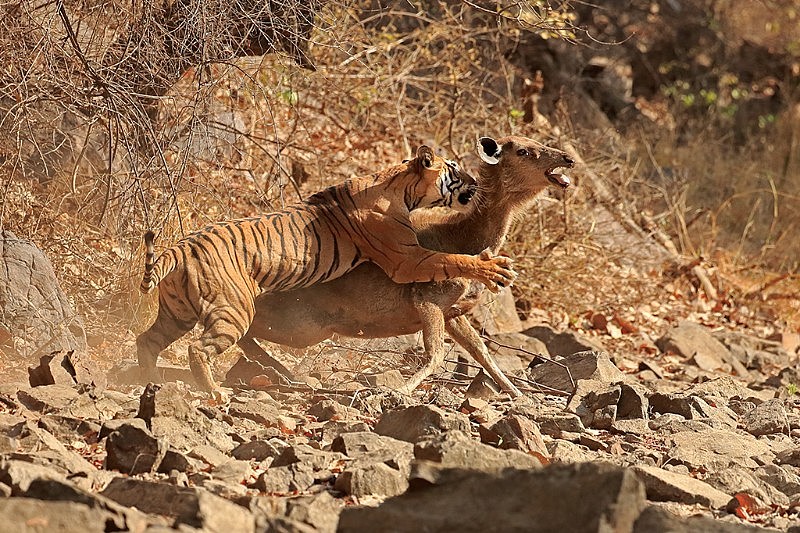 I actually processed the one above in a demo so apologies it looks the same as mine above, I know that Jane will have our her own touch on it by now.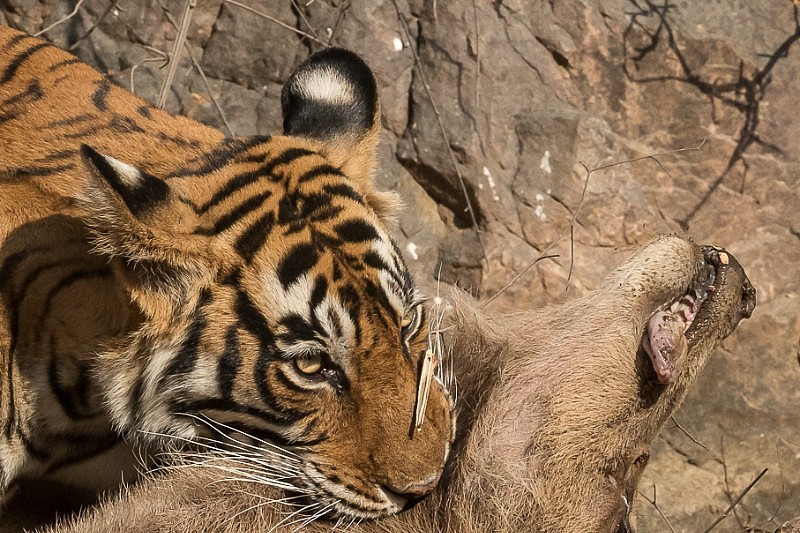 Nice one Yvonne the kiss of death!!!
So well done you lot, it was a tough situation and you did very well indeed!
So there you go, that's the tiger kill encounter done and dusted. The book will be started this month and will be expected Xmas time or shortly after. If you wanna see more of my images then check me out on Instagram (@wildmanrouse) - I'm the one without any bought followers so am quite lonely over there!!! More soon in a few days in the meantime here's a couple of trips we are working on now that you might be interested in.....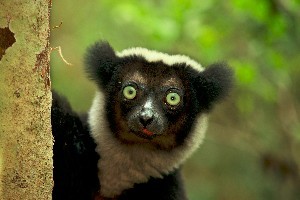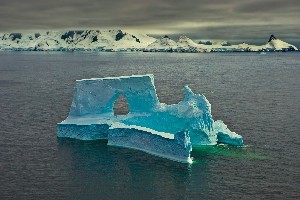 id=31
Subscribe to the ARWP newsletter
Get all the latest and exclusive news straight into your inbox