I've had a few comments recently about why I am not posting exciting wildlife like tigers, polar bears etc like I have done in the past. Yes they are very exciting and exotic to see and I love them dearly, but right now posting that kind of stuff is very non inclusive. It's ok some of the time but the majority of the time I want to show achievable wildlife to guide us through these strange times. Wildlife that, on a dark day when our demons surface and suddenly all this new world seems a little daunting, can really lift our spirits and make us smile.
I want to inspire anyone that takes a few minutes from their valuable lives to read my drivel. I want to make these few minutes really count and mean something, hence I am mostly posting what I am seeing and shooting locally. Because that's simply what most of us can do now and I have seen through my wildly successful recent @Wildmanrouse Facebook posts that it's working. So I am gonna carry on the policy of local first and foremost with a sprinkling of the exotic!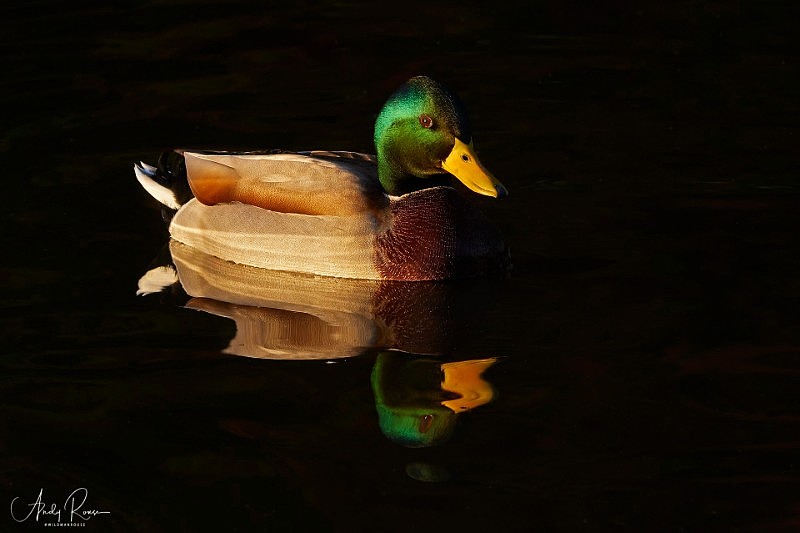 Take this humble drake Mallard shot last month. It's a beautiful duck and I have always so loved ducks. Yet they are so often ignored and overlooked because they are common and deemed unsexy. Well I am common and deemed unsexy but I won't allow you to ignore me and nor should this Mallard. Look at that colour, look at the way nature shines at is, giving us all this colour glory in something most of us can find within 5 minutes of our homes. I think all these lockdowns have had such a positive effect on our relationship with nature, we now have no choice but to look at the common with new eyes.
So what's the other thing that makes this Mallard stand out? Yeah the light. The reason I shoot black backgrounds and low intense light is simply because that is when I am out and about looking! It's my style. So this image features a beautiful Mallard first and foremost but it's all the more beautiful because of the way I shot it. The light makes you take notice, it gives the Mallard a voice that otherwise wouldn't be heard. I saw the potential immediately on this day, the setting sun was lighting the pond in patches of dark and light, with the Mallards swimming through them. So I just had to sit, watch and wait. Nothing else to do in my life than that and you know what, it's just perfect for me.
So go on, see the common in new light and use the time we have now to rekindle your love of nature. It's a time to be positive and look forwards, no matter how much it rains!
📸 Camera Bits - Having a WYSIWYG viewfinder on my Olympus EM1X helps of course as I can darken the picture and see the results immediately. I don't worry about numbers in photography anymore, they are so last year, when the picture looks right I shoot it. It's a much simpler philosophy and paying dividends. Here it just all popped and bam I let the silent drive have it. Of course I have regrets, I wish I could have shot wider but the channel was narrow and there would have been too much black and darkness. I also shot this with the Zuiko 100-400mm lens, a fantastic tool that gives me 800mm range to draw shy stuff in. It's very light, portable and I can carry it anywhere. The same is true for the new 150-400mm of course, albeit slightly longer and heavier, but I don't have that so I continue to use and love my 100-400mm. You can only use what kit you have to the best of your ability and lens envy doesn't help your mental health or your photography. I've learnt that over the years, and that's a lot of years of being a pro!
id=139
Subscribe to the ARWP newsletter
Get all the latest and exclusive news straight into your inbox