Hello all and hope this BLOG finds you well. As you all know I travel a fair bit to India to work with my beloved tigers of Ranthambhore and this season I will be there for a total of 6 glorious weeks. It all starts in a couple of weeks time with a winter trip and so I thought you'd like an insight into what I will be doing, who I will be doing it with plus what kit I will be using. So here you go!
I have been spending a lot of time in Ranthambhore since 2014, usually 4-5 weeks per year. Yes I love the tigers (especially a certain one called Noor), you all know, but it's also the people too that make it my second home. For me travel is about culture and experiencing new things, yes India is a very different place from where I live today but at it's core the people are just the same with the same struggles in life. I'm very lucky that when I go to Ranthambhore I do so knowing that I am travelling to a place where genuine friends are waiting to welcome me, and none more so than my Indian brother Aditya Singh: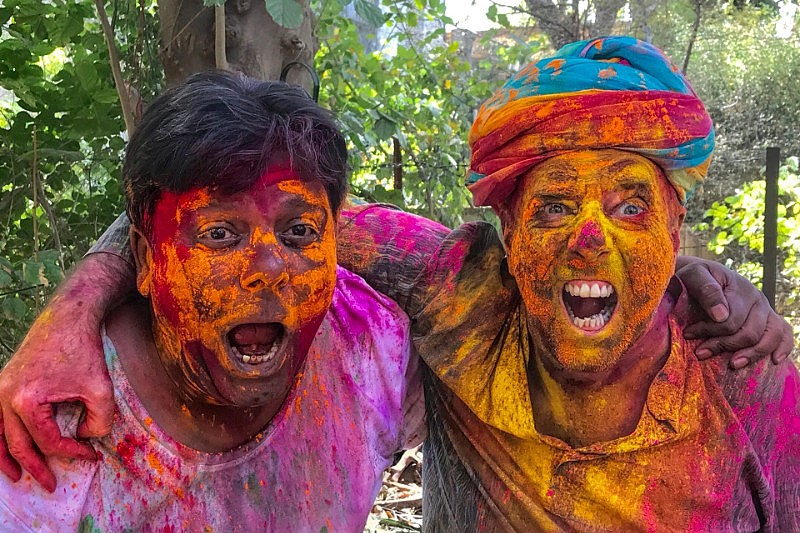 Taken during a very alcohol fuelled Holi celebration, I think we look cool!! And a quick shout out to the Boss, Rajkumar, Susil, Ramsingh, Ramkiss and of course the real boss Poonam.
The Kit
Obviously this time I will be taking my Olympus kit of course, and it's not the first time with tigers as I took it in May. But suffice it to say that last time I was a novice with it ( as I'd had it a matter of weeks) and was not as familiar with it's operation as I could have been. Now, after a summer with polar bears and wolves, it's becoming second nature and I've reprogrammed most of the buttons to match what I have been used to with my old Canon system. Muscle memory counts and sometimes I only have a split second to get a shot, knowing where the functions I need by instinctive touch can make the difference between success and failure. So I have both EM1X bodies setup now with exposure compensation on the back dial and aperture on the front, that's the way I have always shot and I don't see a reason to change. I'm still a traditionalist when it comes to AF as well, I never have and never will use back button focussing as I get perfectly good results without the need to follow a fad.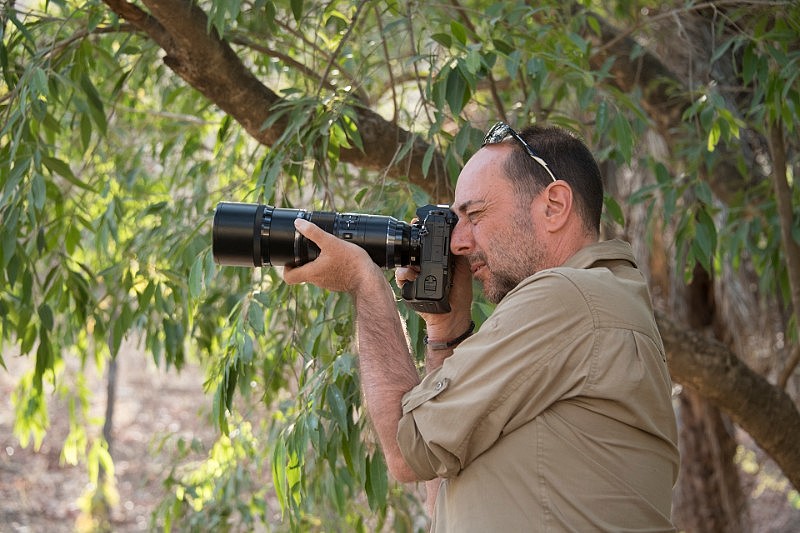 Lens wise it's pretty much the same as always. Main lens will probably be the 300 f4 that you see me using above. It's not a 300mm on the system though it's a 600mm lens, here I was standing and hand-holding it in a rocky jeep to get the angle I needed, in the old days holding onto a 600mm like would require Herculean biceps...which I clearly don't have! It's an awesome piece of kit, and combined with the in-sensor IS it's sooooper stable.
Sitting alongside the 300 will be the 40-150mm f2.8 with the 1.4x converter attached, on the system this will be a 112-420 f4 super light and quick zoom so it's very useful to get into awkward positions. Both these lenses for me win out as they are so light and portable, it's made a real difference to the images that I am taking. And before you say it yes I know that there is a 2x but I don't like any 2x from anyone and my opinion will always be the same...but I might try it a little on this lens as it would do wonders for the range. Of course I will have both of these main lenses permanently attached to their own EM1X (I have 2) as I don't want to be changing lenses in the dust - although I should point out that I've never had a dust spot on my Olympus sensor. But it's a valuable lesson for everyone to get two equally matched bodies, or at least two bodies full stop so you don't have to change everything all the time - you miss shots and cause dust issues. For this trip I will have a third body too, the EM2, which is used for my wide angles and also to film cinema 4k.
Learning to work with Olympus files
When I took the kit to shoot tigers in May I was a novice with the files and it showed. I'm gonna be honest here as always, you have to re-learn how to shoot with an M43 system as it's different from what we are used to. It's a smaller sensor, which is why we get all those lovely benefits as photographers, but because of this you need to know what the files can take and what they can't. Mostly it's fine and I don't think about it, but in very very low light conditions, for example after sunset at ISO's 2000 and above you can get some noise - especially if you EXPOSE IT BADLY! The M43 sensor needs your input and doesn't take kindly to lazy photographers, if you want all the benefits and are willing to learn then it's easy, if not then it's cool too as it's not for you. The files are different, they look different and you have to understand that! I had to learn that too and the one thing I have learnt is to get the exposure right. This is a no brainer actually with any mirrorless, that is why you have an EVF and an instant view, anything you change is instantly shown and therefore there is no excuse for getting it wrong.
Now a touch of reality needs to set in as well here, any camera will produce noisier images in low light at high ISO than in good light. The M43 is really no better or worse in this respect, yes it might need a little more processing ability but the advantages that the camera gives probably means it gave you the chance to get the shot that others might not so it's a question of balance. As long as you shoot with this in mind then you will be fine and will enjoy the system to the max as I have. And you will have seen many of my images published over the Summer in quality magazines, newspapers and other media where quality will be looked at and considered by the editors. They published them without a second thought, many in bloody awful light, so really I rest my case. Right now though I am evaluating the best software for converting the ORF files as I have been using Olympus Workspace up until now - LightRoom doesn't favour ORF files as the profile introduces too much noise IMHO. So I have again been revisiting Capture One Pro and I will write a BLOG on this soon!
5 Favourite Tiger pics from last time
So I picked my 5 favourite tiger shots from the previous trip for you and here they are: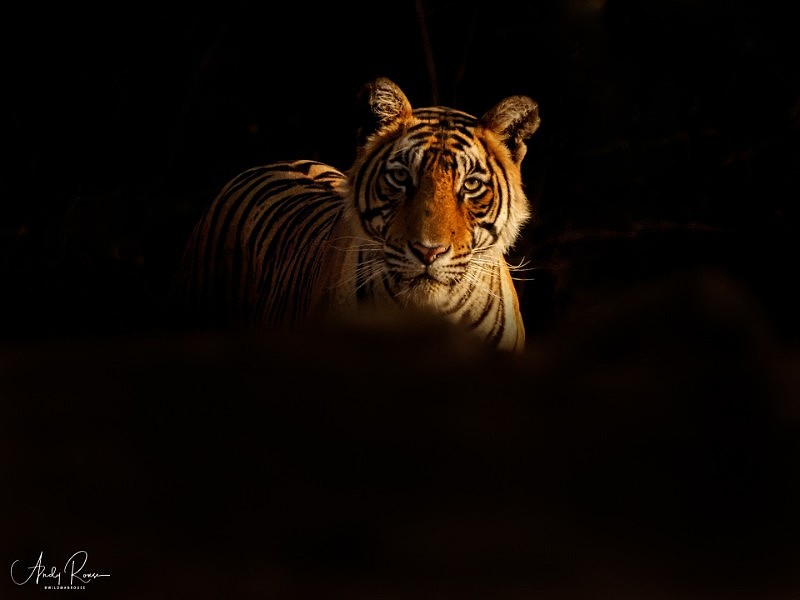 📷Em1X, 300mm f4, iso 800, f4 @ 1/1250th, -1.7 ec
I love it simply because it's my atmospheric style of darkness into light, shot exposure compensated in a forest. A lot of timing, a lot of luck and a bit of processing combined. This is Olive / Kim T107, my new muse and daughter of the mighty Noor. More of the same I hope on this trip, I'm not after record shots of tigers.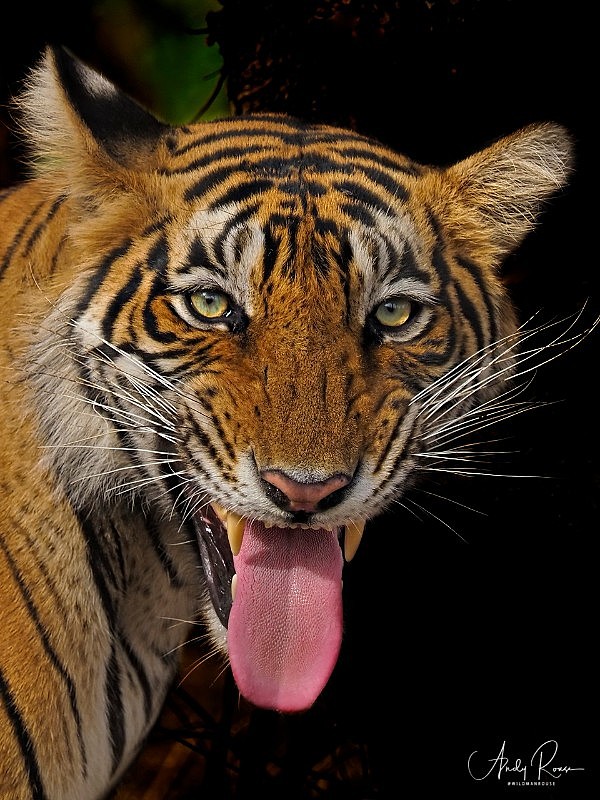 📷Em1X, 40-150mm f2.8, iso 200, f4 @ 1/1000th, -1 ec
A flehmen gesture where the tiger is drawing in every single bit of scent information, on this occasion it was a scent mark on a tree left by a male tiger. Again Kim / Olive T107 with a lovely connection and such beautiful eyes.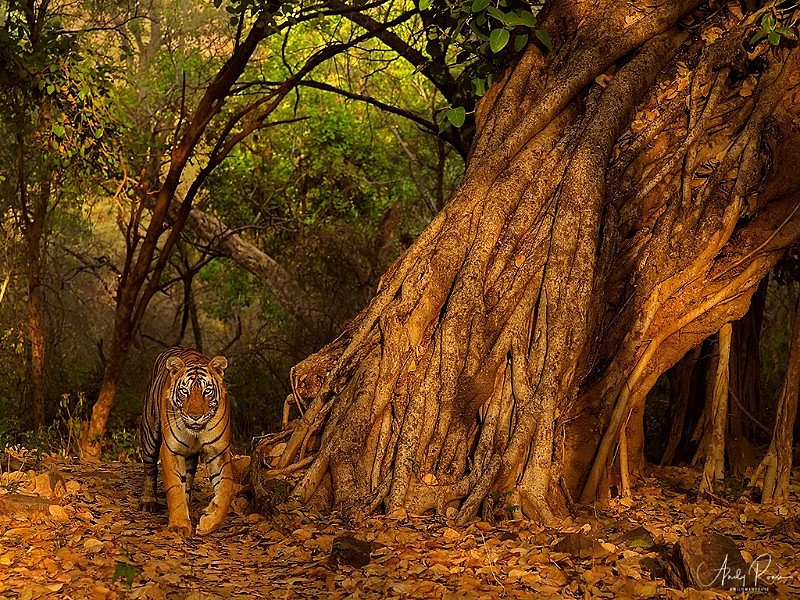 📷Em1X, 12-100mm f4, iso 800, f3.2 @ 1/800th, -0.7 ec
Arrowhead, you elusive girl, providing us with some wonderful chances in awesome light. For this shot I used my experience to leave everyone else and take my jeep ahead to gamble on the path she would take. It worked well and she walked right by the Banyan Tree, I gave the image space to breathe as I wanted the tree included and part of me wished I'd have shot it wider!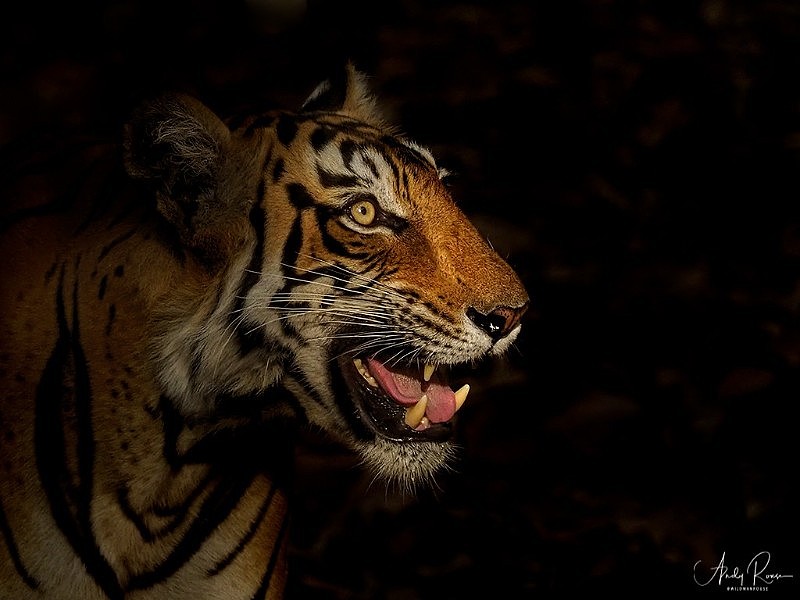 📷Em1X, 40-150mm f2.8, iso 800, f2.8 @ 1/1000th, -2 ec
Arrowhead again as she waited to emerge from the darkness to cross a road, again the darkness to light transition that I love so very much. This time a tight portrait as it suited the image best, and a nice connection where she's not looking at the camera (which can be intimidating).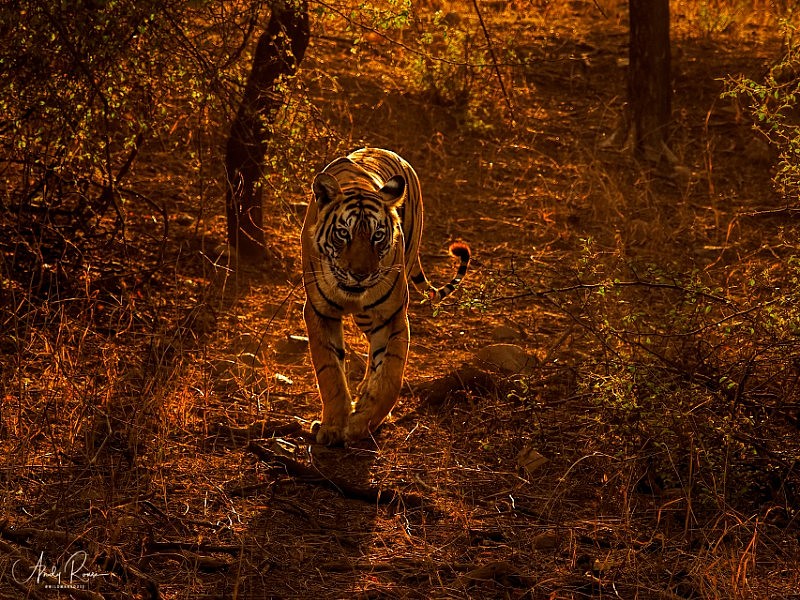 📷Em1X, 12-100mm f4, iso 200, f4 @ 1/320th, -1.7 ec
And finally a favourite tiger shot amongst all those I have taken over the years, as soon as I took this I knew it would be a good one and it was. Lovely backlight and a wide composition to really use the light and make this a very atmospheric shot. And yes it's Arrowhead again!!!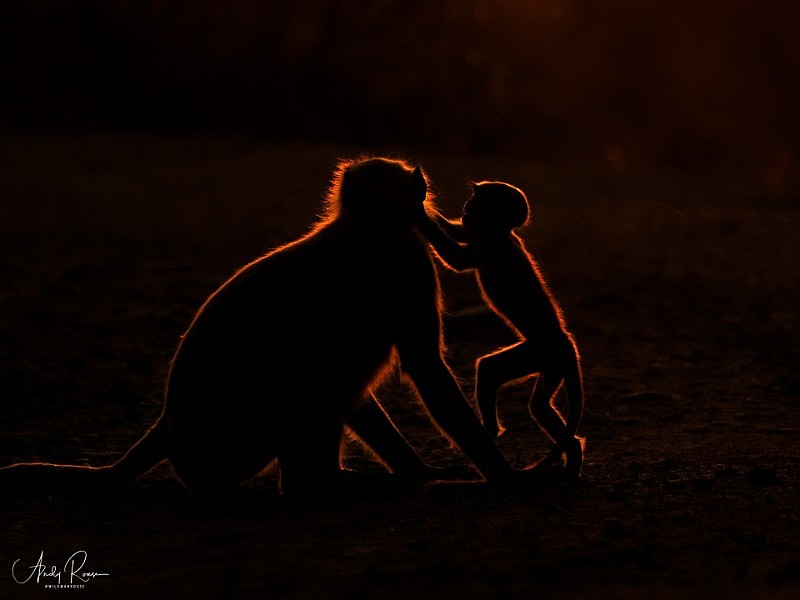 📷Em1X, 40-150mm f2.8, iso 800, f4 @ 1/3200th, -2.7 ec

What's this Rousey can't count? Yeah I know I have shown 5 tigers but Ranthambhore is so much more than tigers. Every night we used the last light to work with a troop of Langur Monkeys, and every night I used the live exposure of the EVF to apply negative compensation to get the atmospheric image I want. The AF stuck like glue and the rest you can see here. I simply live to take images like this and my dream is to get a tiger in this light, although the chances of this are very low due to habitat and time constraints when you have to be out of the park. But you never know!
And Finally
So there you go, I am so excited to be working with tigers again and really looking forward to getting stuck in with the kit. As always you can follow my adventures on Instagram and Facebook @wildmanrouse.
id=123
Subscribe to the ARWP newsletter
Get all the latest and exclusive news straight into your inbox