Selecting front cover of any book is a tough process, in the old days it was somewhat easier as it had to grab someone's attention from a book shelf. Now it's gotta grab someone's attention on a screen the size of a postage stamp!
The book cover has just one job, to stop someone in their tracks and make them wanna open and engage with the book. That's it's only job. Therefore the choice of a cover image is really tough, as you need to remove all personal prejudices from the decision. It has to be purely on appeal to people who may never have seen your work before. So it doesn't matter how many awards it has won, how much you like it or anything else, the only consideration is whether it is striking enough to stand out from the crowd. Of course not all books are equal like this, the Remembering series of conservation orientated books will sell well regardless of the cover (even though they have great covers) because it's appealing to a different human trait, generosity. For the rest of us however the choice of the cover remains one of the most stressful decisions we can make during the whole book process.
This time selecting the cover image for Noor Queen of Ranthambhore took myself and Dicky a lot of time. We went through a dozen cover page before finalising on this one. It didn't matter which one of us took the images, they were selected for the picture only. Images that we totally loved were mocked up by our designer Nick and we quickly realised that we were guilty of what I said above, we were selecting images based on what we loved...rather than what would appeal to others. So we changed tactics and got our partners Suzie and Poonam involved, plus a network of good friends as well. Slowly we started to form a shortlist of images, here are a few that were in the final list: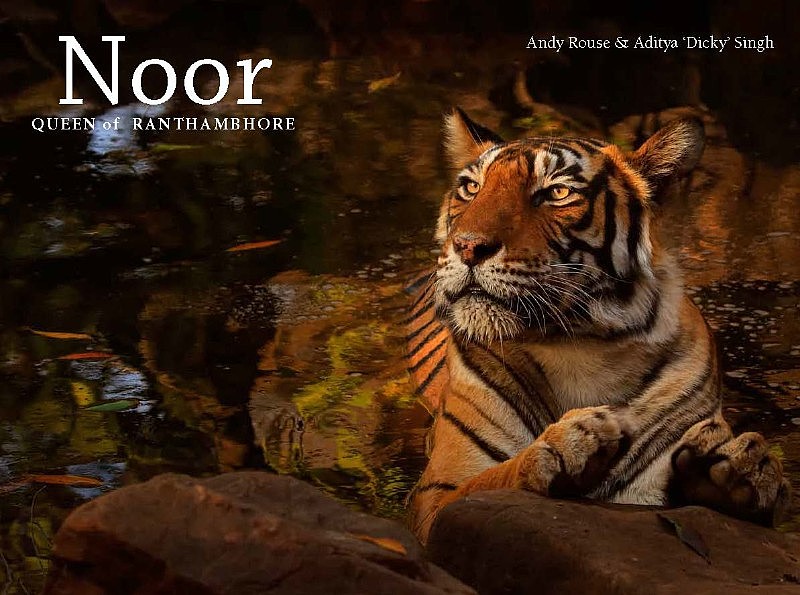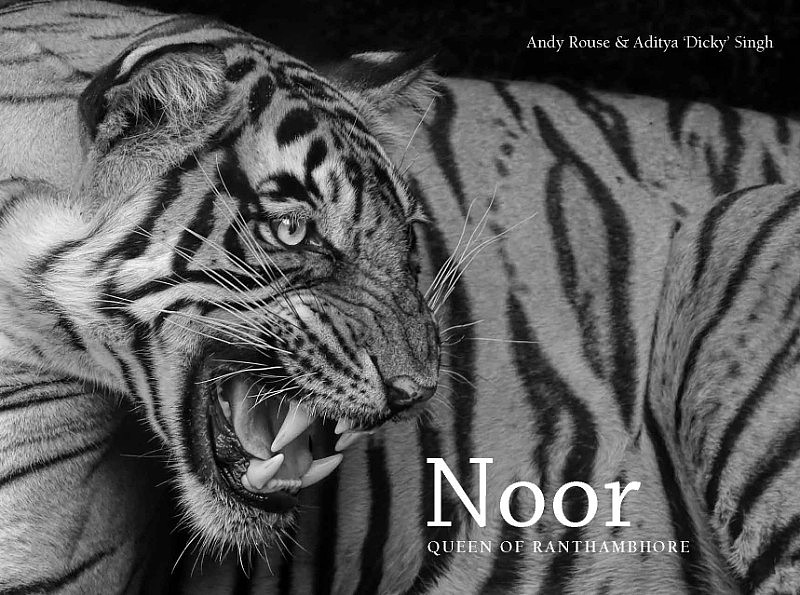 We both loved this image as it shows a lot about Noor but what the book is all about. Our photography is a mixture of colour, monochrome and Infra-Red. It's a different kind of tiger book, one that is very design led and we thought that this cover was a good representation of that. Then for that very reason we discounted it as we were being too self indulgent. This wasn't a black and white art book, it was a book about one Tiger and we had to pick something completely different...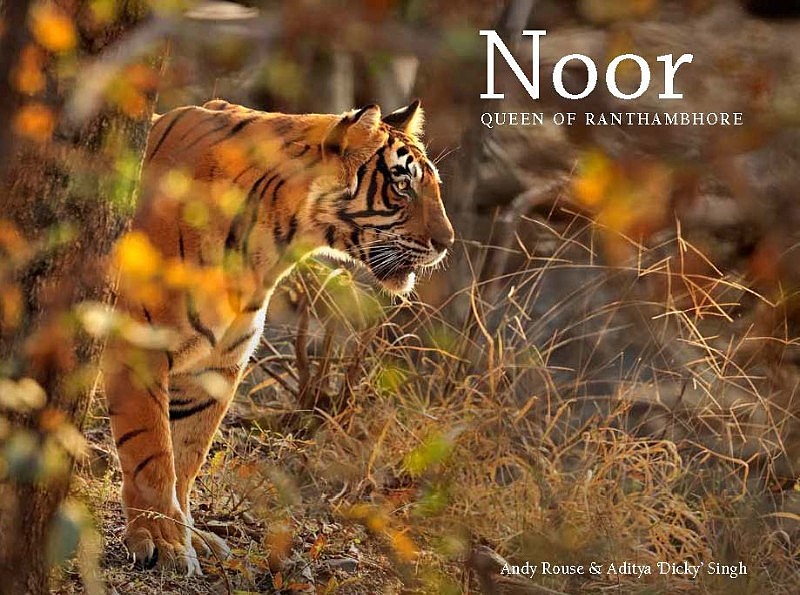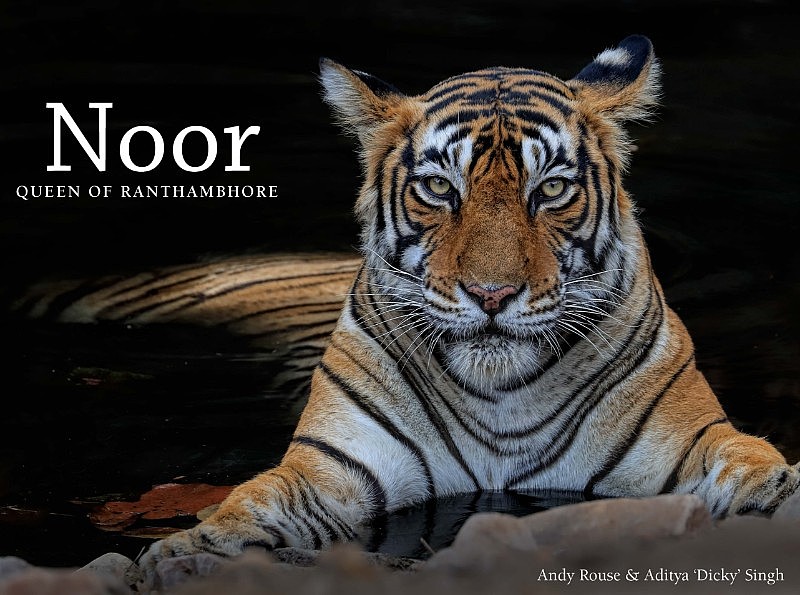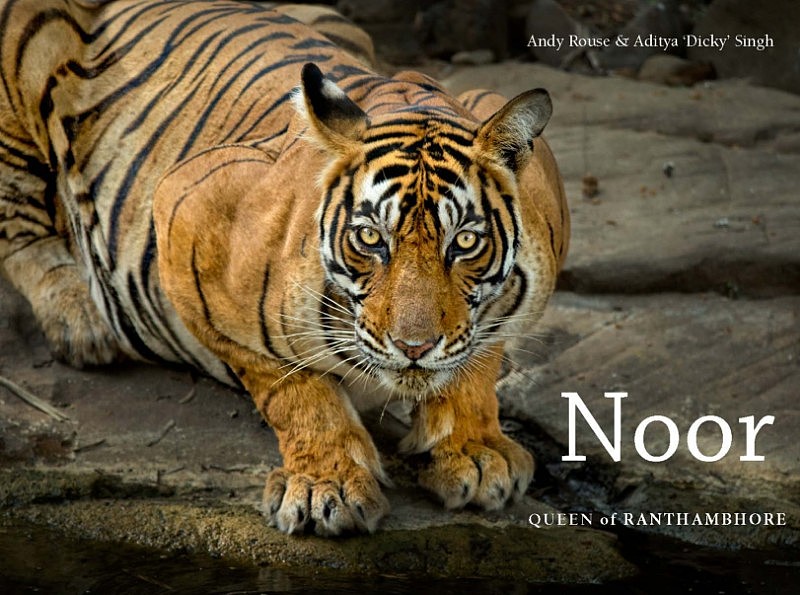 Just a fraction of the many ideas that we had, mocked up and discarded. Looking at these though allowed us to realise that what we really wanted to show was the personality of Noor, capture her nature of being on the one hand stunningly beautiful but on the other hand a ruthless killer. Noor is never particularly in a good mood, she walks along with an intensity that hangs over here like a storm cloud. We knew that we couldn't choose anything aggressive, as that would not appeal, but we also knew that it had to be an image that captured her mood perfectly. So we both went back to our archives and processed a lot of RAWS that had never before seen the light of day. It was during one of these sessions that a jewel came to light, one image that captured all we wanted to say...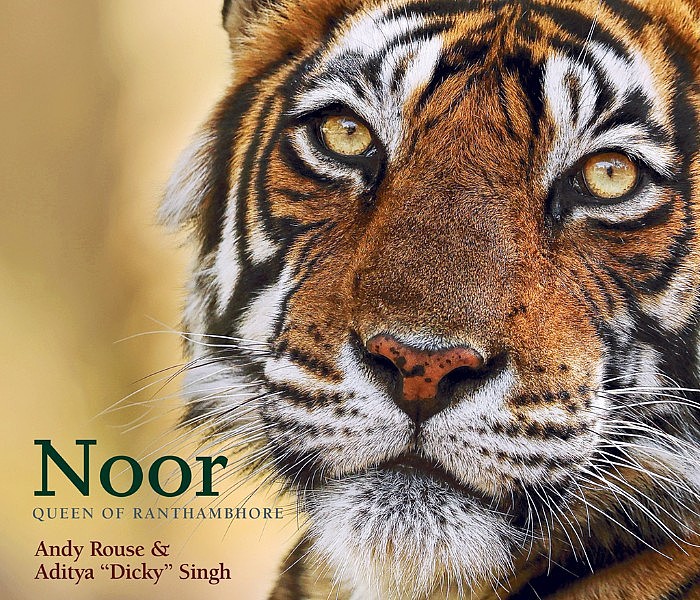 When we first saw it it was shot wider than this so our designer cropped it in to give the intense look that we wanted. That's one of the advantages of shooting on high MP cameras, you have enough pixels to play with to allow cropping whilst still maintaining a sharp image. Processing wise it didn't need too much, the light was bright diffuse as she was sitting under a canopy so the tones were more or less right. Conversion to CMYK was a bit of a nightmare as the whites kept getting a blue tinge but once I fixed that with an adjustment layer it was easily sorted.
So that was that, the cover was chosen and we are both really happy with it as it's truly Noor. Beautiful yet with a definite intent!!! Of course it will make it easier for us to select the covers for books 2 and 3 in the series, but that all depends on printing the first one.
Crowd Funding
We need your help to make this project a reality and time is fast disappearing. If we don't make our target then we simply will have great difficulty in printing the book, so please help us to reach this goal. Take a look at some of the incentives for supporting this worthy project on our page by clicking here. There are discounted signed books (by both of us), packages involving books & prints plus gifts for the photographer including portfolio reviews. So please do support us, being independant and publishing the book we wanted has tremendous risks and we need everyone's help to make this project a reality. Cheers in advance!
id=47
Subscribe to the ARWP newsletter
Get all the latest and exclusive news straight into your inbox