A 5:15 BLOG what's that all about? Well it comes from my corporate days when a sadist used to make me prepare a report on a Friday night of my weekly activities that took me 15 minutes to write and him 5 minutes to read!!
Week Gone By - Braaaaaazil la la la la Braaaaaaaaazil
Ok apologies for the lack of BLOGs last few weeks, I was in the middle of nowhere with absolutely no internet whatsoever. Now I am back so normal service will be resumed!
So let's talk Brazil. I was there primarily for Jaguars as it's been too long away for me from this amazing cat, and boy did we have a lot of success. The kind of encounters really suited me as well from my Tiger experience, as you had to think fast and stay ahead of the game, predicting where the Jaguar might go. At all times though I kept my ethics, as I do with tigers, and give the cats plenty of space to breathe and do what they do, we were never the closest boat but were generally always in the best position. My clients were amazing too, great fun and all learnt a lot and took some inspiring photos. I will do a full BLOG on the trip, probably more than one, but for now here's a couple of simple pictures: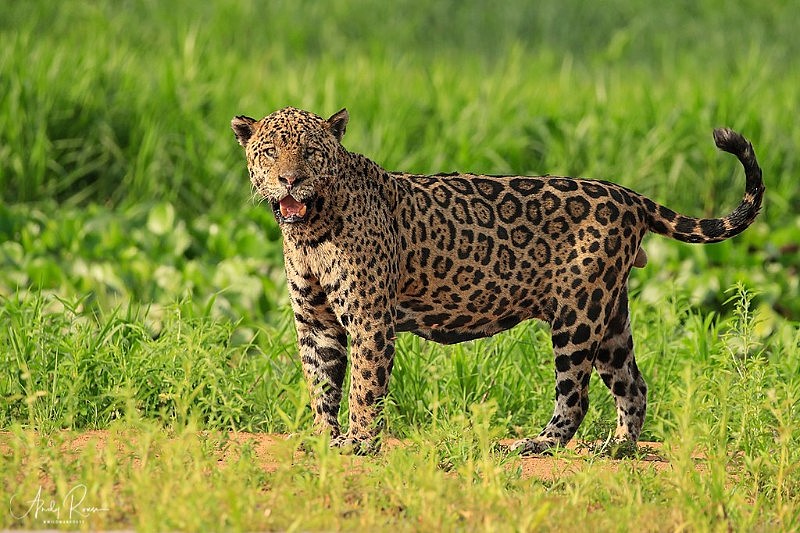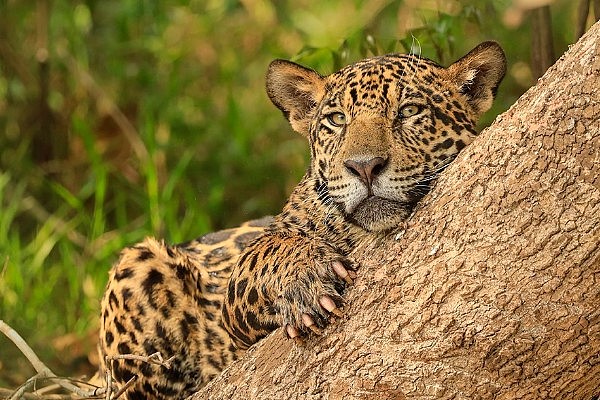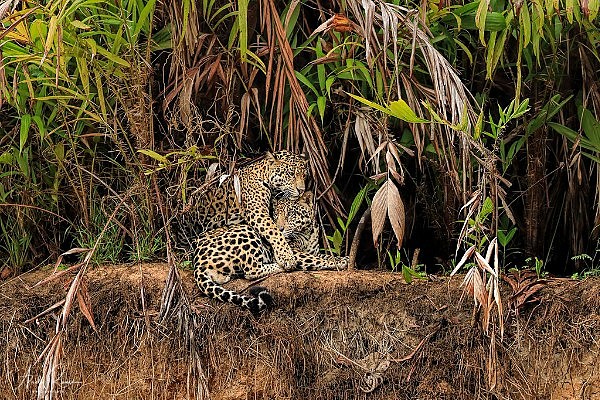 Now if you remember the last BLOG I was taking new kit and that was perhaps the major story about the trip. The new super light Canon 400mm f2.8 III IS lens was awesome and I wrote a full review here. The biggest surprise to me though was the EOS R mirrorless. I had taken it along to use as a third camera for landscapes, and that is what it did for a few days. Then, I just decided to throw it in the deep end and give it a go with the cool R adaptor on the 100-400mm lens. I didn't put it down for the next 4 days. It replaced by 5D4 shooting and I left that out of my bag everyday. Now I will be doing a very in depth review of the EOS R with all my reasons and findings, but in summary the Image Quality (what I judge it on) is superb and the shooting advantages of exposure, WB and autofocus made me nail more images that were perfect, so much so that I started to shoot less as I knew I'd nailed the shot. Without the great IQ this would have been a non starter, the image above left is shot with the EOS R and you'd never know it. It allowed me to be more creative and that is a good thing as I pride myself on still taking great images, it's my life. So watch this space for more, I will certainly be blogging a lot from India where I will be using the EOS R on the 100-400mm lens. Oh and it's not a loan from Canon, I believe in it so I have bought it. With real folding money.
Conservation Shout Out
You know sometimes I really despair and wonder if we will ever get any good news about conservation. Over the past few weeks it's been total doom and gloom. As usual though I have decided to share as much of this as possible with you and let you take it from there:
Trophy Hunting - Everyone saw the disgusting gloating pictures showing a US hunter killing wild goats, sheep and deer in Scotland last month. I tweeted my views on this as I think that trophy hunting is disgusting in all it's forms. Managed culling that brings money in for the local communities is different, this is just PR barbarism. I took a fair amount of flack for it, and had some amusing threats (who soon vanished when they got a very different response from what they expected) but I'm still sharing the info. So if you wanna sign the petition against this then click here. This will only get forgotten if we let it.
China Reverses Tiger / Rhino Ban - Just when I thought we might get somewhere with tiger conservation and were winning the battle this announcement hits us. Without any warning the Chinese government reversed the ban on using tiger / rhino products in traditional medicine. Experts think this is a commercial decision to support the growth of these traditional cures, but it's sickening to the core. Here's the NY Times article about it here. It's too early now to see what can be done about it and I will always try to update on here as it's a terrifying change and it worries me what this could lead to.
Suzie's Conservation and Lifestyle thoughts - Water
Of course we all want to do our bit to help the environment but, as always, our priorities in our lives sometimes means that this gets forgotten. My partner Suzie is very into a sustainable lifestyle and so each week she will give her thoughts on something simple that you can try to make a difference to the world.
We all use too much plastic. Last time I mentioned how you can now buy water in an aluminium can - this of course being a highly recyclable plastic bottle alternative. However another way in which we can reduce our plastic consumption is of course to reuse plastic bottles or to buy a dedicated water bottle. I always try to reuse any plastic bottles - I would rather do this than purchase a plastic bottle specifically for the job. However another alternative is to buy a metal water bottle. Me and Andy got a couple of these for free when we stayed at an eco lodge in Chile. They are fairly large and have a plastic top but other than that are made from metal. We liked them so much that we try to use them whenever we can. In fact we are thinking of introducing them on certain trips for our clients to use. And of course you can get these refilled whenever you need extra water. I would still argue that we need more free water available at restaurants too - why can't more places provide water jugs and glasses? But these are a great place to start. It does require a change in habit though. We are too used to being able to buy a bottle of water - on a day trip or catching a train. You can always buy water in a plastic bottle... because bottled water is so readily available we forget to take our own filled bottles with us. We need to consider water as the precious commodity that it is. Change our thinking towards water and how precious it is and our decrease in plastic bottle consumption will naturally follow.
Andy here nipping in. Just to say that our safari camp for our tours next year has just got rid of plastic water bottles completely and now use re-fillable metal bottles for their guests. These days I am very tough with all suppliers about this and am trying desperately affect some kind of change no matter how small. This week it's been half term and the plastic used for toys etc is sickening. We all have to work together and lobby these suppliers to use greener packaging, this is one area where consumer pressure will have a great effect.
Instagram Image of the Week @wildmanrouse
The most successful image of the week on Instagram was this one: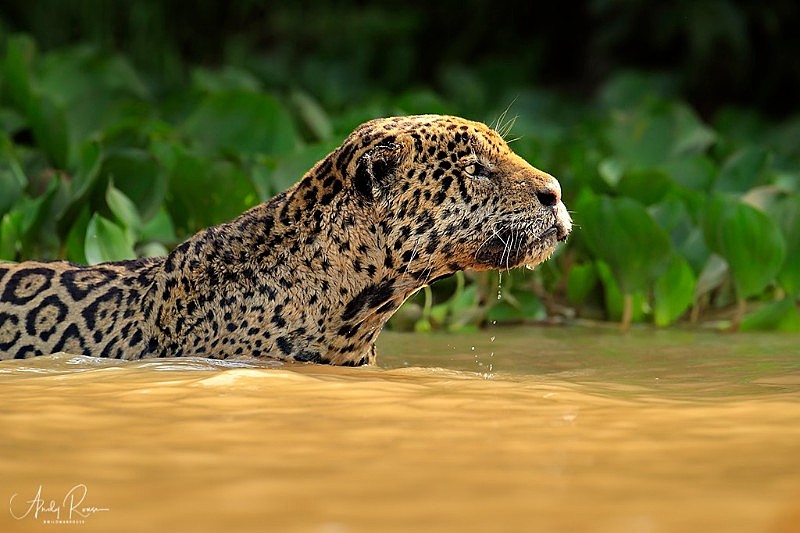 A lovely encounter with Geoff the Jaguar, yes that is his name. He was an awesome dude, a male in his prime, and I was struck by the way he was totally at home in his environment. No matter what he faced, he just got stuck in, water, thick jungle, steep banks, he just didn't stop and nothing phased him. I thought tigers and leopards were capable cats but both are pretty lightweight compared to the Jaguar. It's just a tough cat and that's all that I can say. This image was taken with the new light 400mm lens on the 1DX2, shot low angle to stand him out from the background. It's always a toss up to shoot close or to shoot habitat, this time I chose close as I loved his expression. A cool dude and I look forward to seeing him next year on my Jaguar tours, which are going to become a regular fixture in my calendar.
The Week Ahead
I'm rammed!!! I've a Canon Ambassadors meeting, a talk in Scotland then three talks at the Nature Talks Festival in Holland. If you fancy one of my upcoming talks, I will be telling my tiger story, showing a lot of new inspiring work and generally trying to give everyone an uplifting evening. Noor Tiger books will be on-sale too, ticket details here:
Penicuik - Thursday 8th November - click here
Witney - Tuesday 13th November - click here
Market Drayton - Friday 16th November - click here
Ok that's it hope you enjoyed it and more BLOGs will be on the way soon!
id=81
© 2019 ARWP LTD
Subscribe to the ARWP newsletter
Get all the latest and exclusive news straight into your inbox