50th Mountain Gorilla Trek Completed!
Well I have been out in Rwanda this week leading 7 more clients on treks to see my beloved Mountain Gorillas. It's been a very special week for me as yesterday I completed my 50th trek to see Mountain Gorillas, which means I have led over 300 people to see these amazing great apes. I don't hold the record, that is held by the awesome Joe MacDonald, but 50 is considered a huge milestone.
I just love Mountain Gorillas, they are simply awesome. Yesterday I was lucky enough to visit my favourite Silverback for my 50th trek, Muninya of the Hirwa group. He features prominently in my Gorilla book and I always love to see him as I remember when he was a very new silverback. Now he is a huge guy, a real gentle and humble giant that always gives pleasure to everyone that makes the effort to go and see him. Here's a nice portrait I shot yesterday....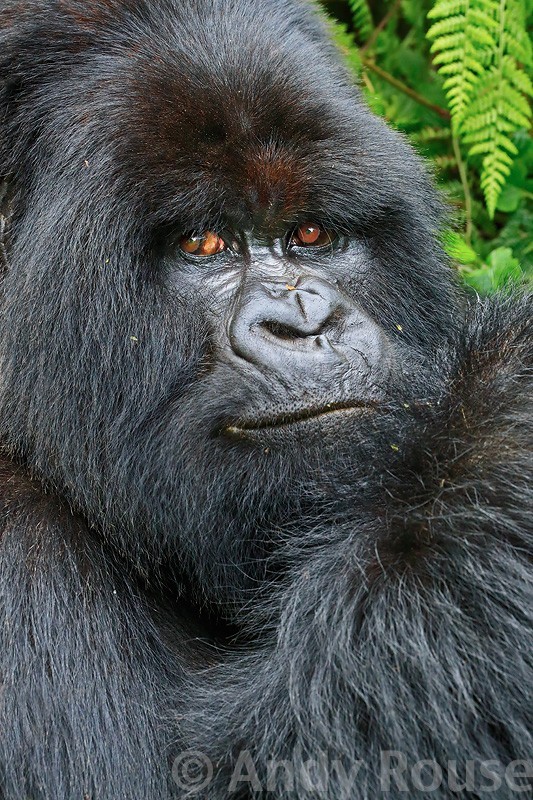 Isn't he something special, a truly magnificent animal. It was a tough trek as he had led his group into a very overgrown area where it was difficult to get more than head shots. Still I managed to get these extra few of his group....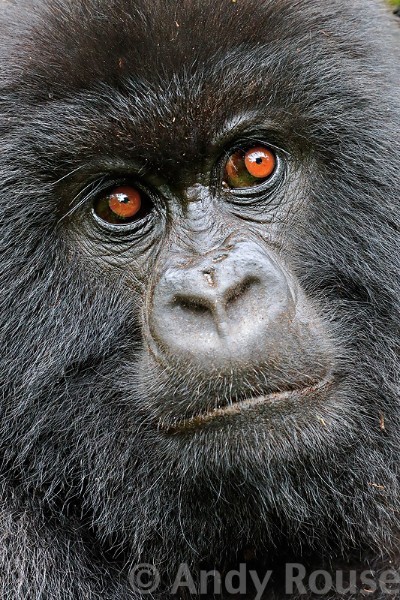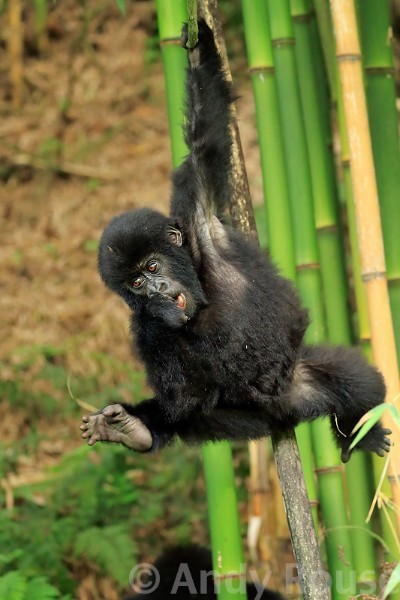 A few fun images for you, all shot with the 1DX2 at ISO's varying from 3200 upwards. Usually we get more images on a trek but this time it just wasn't to be but we still had a great time....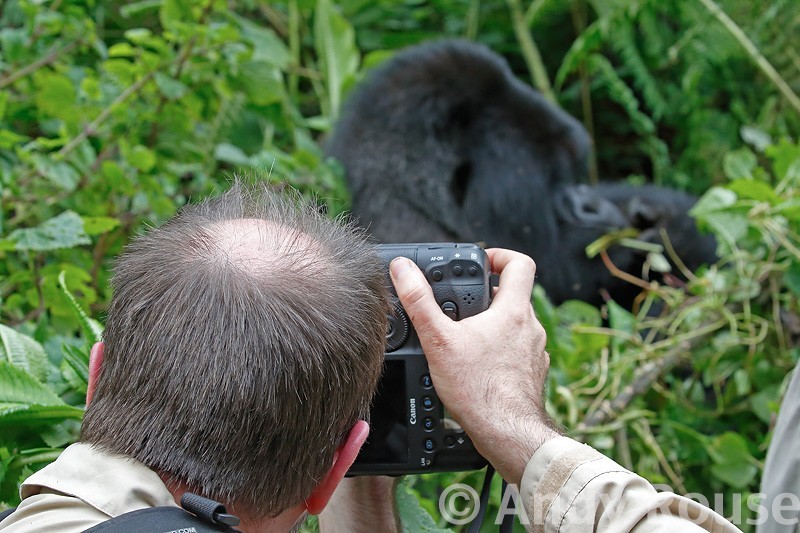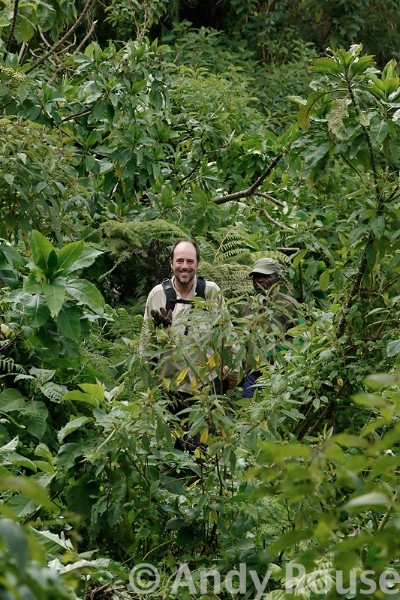 Of course the trek was more special because I was led by my mate Ed Bahizi, who has led me for 90% of my Gorilla treks. He's a great friend, shame that he supports Arsenal!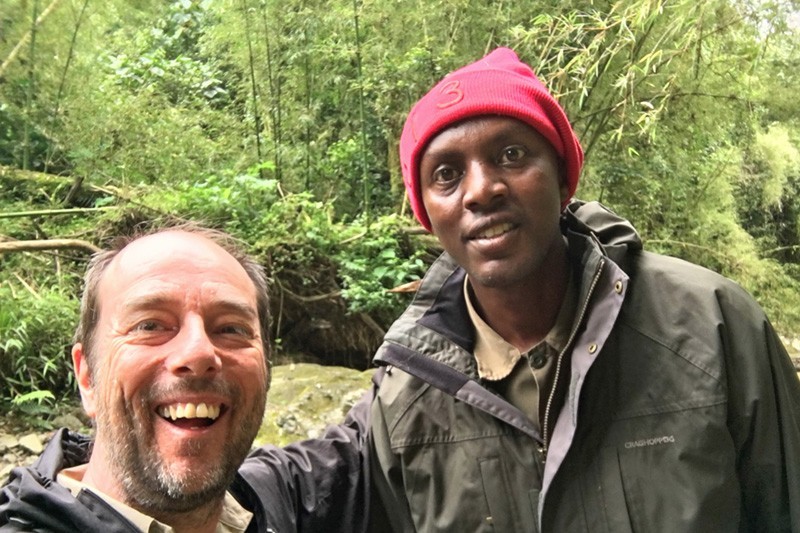 My trekking group has been awesome all week, all 4 treks have been excellent with some great opportunities and memories. So it's fitting that we took some team shots on the 50th trek, the shot shows the trackers and porters too! They are very much part of my team here, I'm known across all the tracking groups for bringing nice, fit clients and every group has greeted me by name. It makes me feel very special....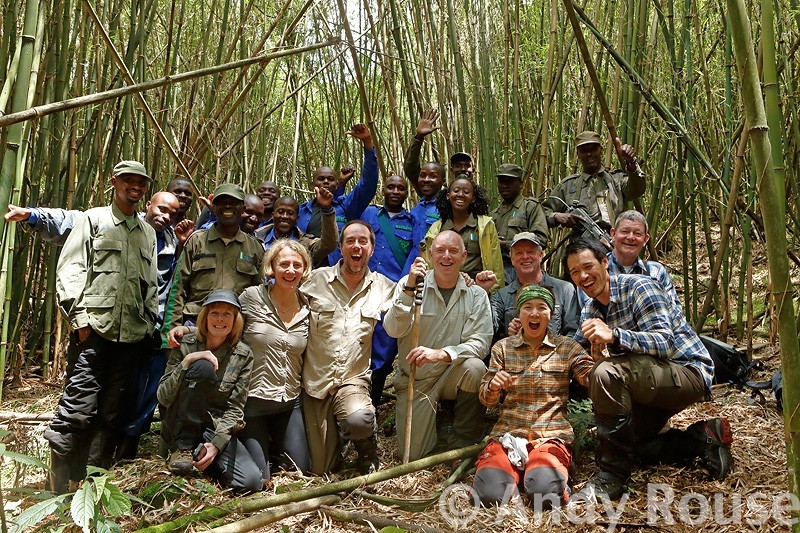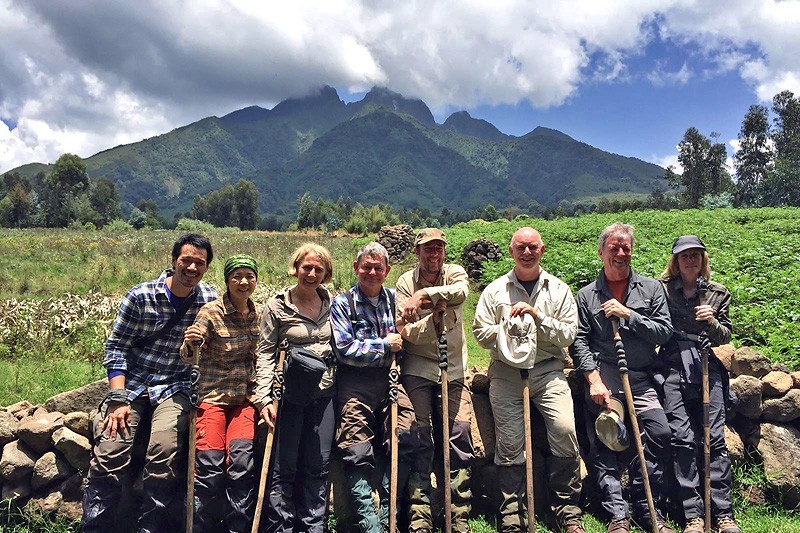 I thought that was it, a very special trek with nice people. But no when we got back to the hotel Natural World Safaris and Far Horizons had organised a very special greeting for me.....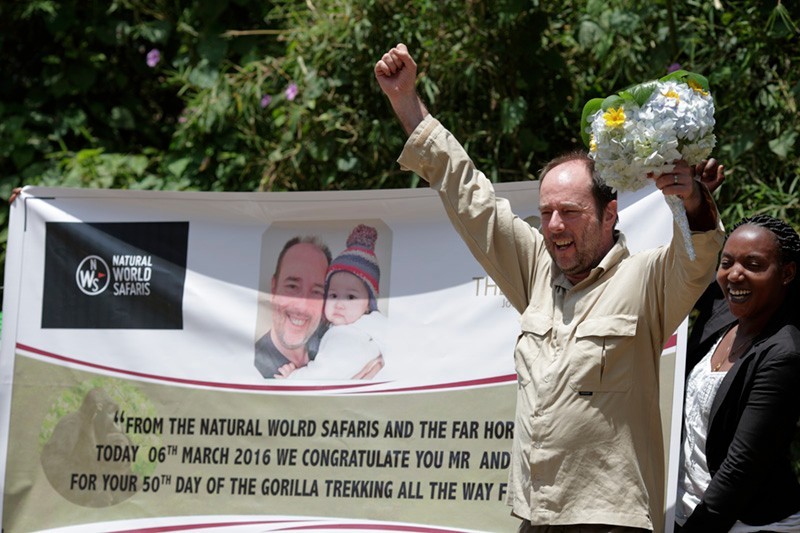 They made a huge poster featuring my baby daughter Sabrina, which was so touching. There was also a band, singers, dancers and champagne! Just such a special touch, and the hotel had their part to play as well.....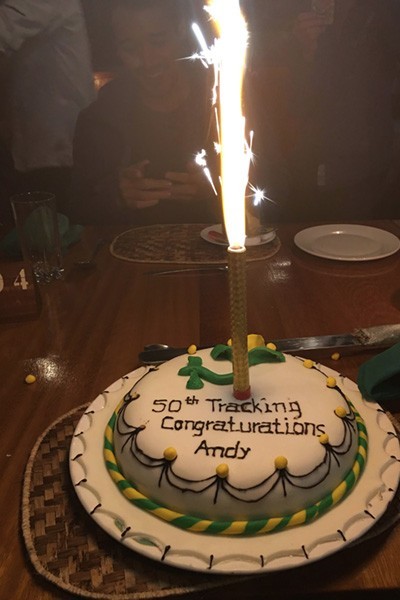 I have never had a firework as the candle on a cake! It was such a special day for me that really helped me celebrate the milestone of 50 treks. The only way that we will ever save Mountain Gorillas is to give them an economic value and Rwanda has shown us the model for conserving endangered species as the population is rising. It's always a special time for me when I visit Rwanda, yes the Gorillas are awesome but the country is too. Friendly people, pleasing scenery and so many delightful things in their culture that we have forgotten in ours. A very special place and a very special Great Ape, I love Rwanda and I love the Mountain Gorilla. Onwards and upwards, I will complete 55 treks by the end of this trip so 100 is now in sight!!!
Thanks to Natural World Safaris, Far Horizons, Mountain View Gorilla Lodge, Ed Bahizi, Jolly, Prosper, Martin, Robert and all my wonderful clients for making the experience sooooooo special. FotoBuzz members have been following my adventures with daily diaries, these will resume on trek 4.
A Word about the 1DX2 - I know a lot of you are interested in this camera so here's an update. It's gone from strength to strength, so much so now that I use it instead of the 1DX and try actively to use it on every gorilla shot. The way that I can shoot at high ISO then adjust the shadows without excessive noise is just ace. So for me I am sold 100%, it's been awesome!
id=25
© 2018 ARWP LTD
Subscribe to the ARWP newsletter
Get all the latest and exclusive news straight into your inbox